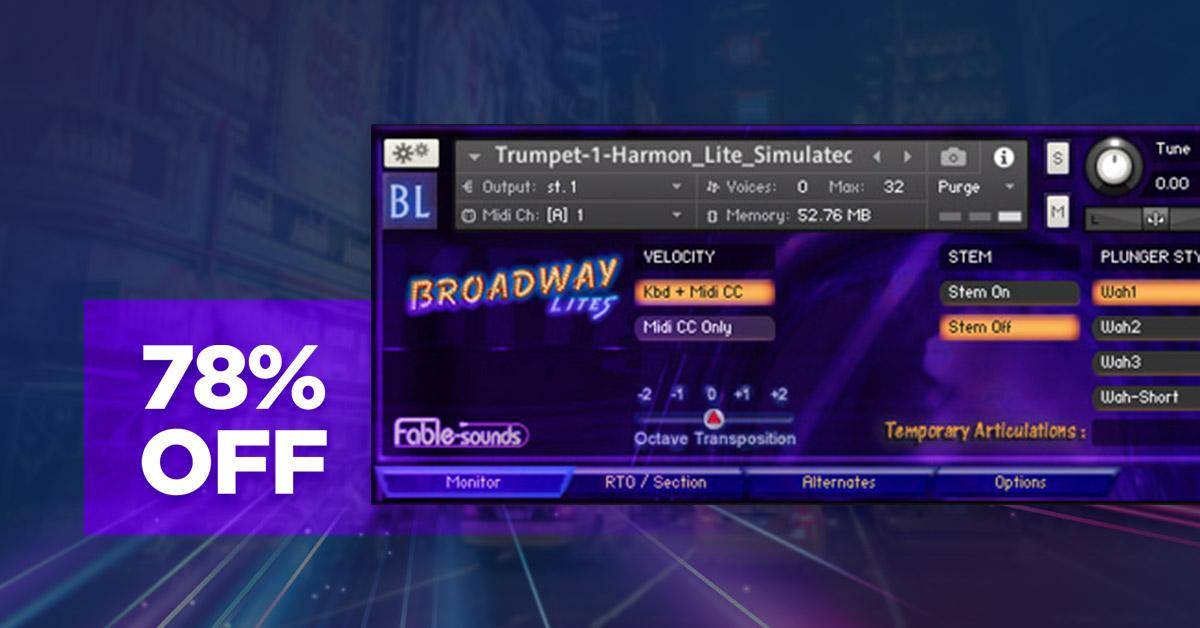 "Broadway Lites 2.0" features 15GB of multi-sample content, with over 20,000 unique samples of saxophones, trumpets, trombone and clarinet based on the legendary "Broadway Big Band" library.
This is an affordable introduction to the best-sounding and most realistic emulation of contemporary brass and wind instruments to date and is perfect for Pop, Funk, Jazz, Big Band, R&B, Reggae, Latin Music and more.
Broadway Lites is regularly used by composers, music producers and keyboardists at the top of the music industry in their work on major network television shows, commercials, live concerts of Grammy winning artists, music albums, and Broadway musicals!
Normally €446 – get it at 78% off before it's gone!
78% off the normal price (normally €446)!
15GB of multi-sample audio content at 24 bit / 44.1 Khz.
Over 20,000 unique samples.Real note-transition samples, including legato, glissando, etc.
Real-time access to all of the articulations of each instrument, using the revolutionary real-time articulation-switching system, which is a part of the patented "Broadway Performer" technology.
Dynamic articulation switching enables switching articulations for ongoing notes while they're still playing, offering the hyper-realistic fluidity of a live performer.
Clever key-switch programming enables super-fast, easy and intuitive articulation switching in real-time.
Hybrid Dynamics mode, utilizing MIDI data morphing for mod-wheel driven crescendos and diminuendos enables the unique hybrid mode, using keyboard velocity and modulation wheel at the same time.
Velocity curve control, to help to manage the wide dynamic range of the instruments when using a MIDI keyboard.
Unison Section – enables stacking multiple instances of the same instrument, creating a realistic section even when playing in unison.
Real-Time Orchestrator – a revolutionary powerful feature which enables a keyboard player to play an entire mixed section of instruments with polyphonic polyrhythmic legato, distributing the voices to the selected instruments, as defined in a user editable orchestration scheme.
Includes a set of powerful instruments multis for easy section playing (both regular stacked multis and RTO multis).
Revolutionary and patented alternate samples handling (round-robin), including an individual cycle for each note in each dynamic level of each articulation, resulting in up to hundreds of individual cycles per instrument, providing the most authentic performance ever offered by a multi-sample library or a virtual instrument.
Create and recall snapshots of alternate cycles to lock performance and gain ultimate control.
Top New York musicians and recording studios.
Color-coded keyboard view presents the playable range and the various types of virtual key switches available for each instrument
Mac OS X (64-bit only) – 10.10, 10.11 or 10.12 (latest update) or newer
Windows 7, Windows 8, or Windows 10 (latest Service Pack, 32/64-bit)
Intel Core 2 Duo or AMD AthlonTM 64 X2 (minimum)
4 GB RAM (minimum)
88 Keys MIDI keyboard (recommended)
15 GB of disk space (26 GB of space required during installation)
An internet connection is required for activation. once activated, it can be used offline.
Note: Please be aware you will be required to visit an external website in order to create an account, redeem and download your product. We do not host the download at VSTBuzz.
Compatible with the free Kontakt Player 5 or higher – VST/AU/RTAS/AAX
Perfect for Pop, Funk, Jazz, Big Band, R&B, Reggae, Latin Music and more!
15GB Of Incredible Brass & Wind Instruments For Kontakt Player
"Broadway Lites" provides an affordable introduction to the best-sounding and most realistic emulation of contemporary wind instruments to date with 15GB of incredible quality brass and wind instruments. As well as being suitable for high-end studio work, it is also great for live shows of any scale!
Based on the legendary "Broadway Big Band" library this is the perfect introduction to the amazing capabilities these instruments offer.
The patented Broadway Performer™ technology enables comprehensive and intuitive access to the thousands of samples included in the "Broadway Lites" virtual instruments, and provides instant access to a virtually limitless variety of articulations and playing techniques!
Kick here to get this awesome DEAL