10. June 2021 | Deals | Noizefield
Deal: CONSEQUENCE by Sugar Bytes 54% OFF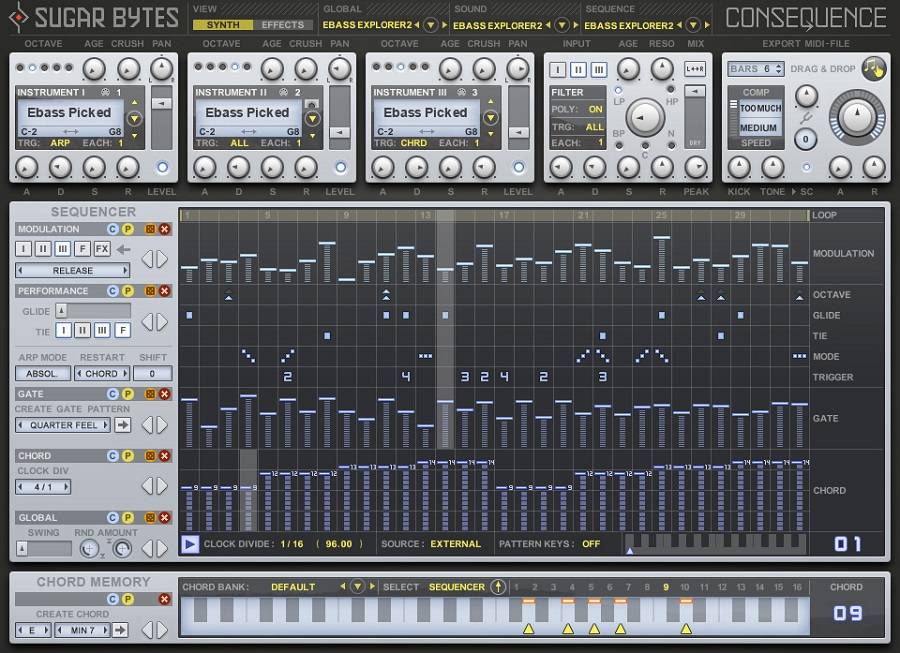 For only $54.99 (normally $119), get CONSEQUENCE, the chord sequencer by Sugar Bytes!
CONSEQUENCE is an arpeggiator, which creates a sequence of notes based on the chords that you provide. Up to 3 instruments can be loaded up, and a vast number of sequencing options can be used to control the way that the plug-in "interprets" your input.
CONSEQUENCE is a composition tool, which can create chord-lines or whole songs on the fly, but also chords which are played via MIDI can be super-sized using the innovative sound and sequencing engine.
Get Guitarist now at 54% off for a limited time only, hurry and save!
KEY FEATURES
3 Oscillators in a 32-Step Sequencer
Easily creates complex sounds and rhythms
Hundreds of natural sound samples
Charming multi-effect section
Individual Envelope per instrument
Polyphonic Triggers per Step
MIDI Out
Requires macOS 10.9 or higher: Audio Unit, VST2, AAX, Standalone
Requires Windows 7 or higher: VST2, AAX, Standalone
MORE INFO ABOUT SINGLE FEATURES
3 sample-based oscillators with independent envelopes and gate selection for overlaying chords with arpeggios
32-step sequencers for chord selection, gate, performance (arp, tie, multi-trigger, octave, glide) and modulation
New sound design features like polyphonic frequency-dependent sample rate reduction and oscillator aging
Included kick 4/4 kick drum for easy groove orientation
Multi-effect with 5 effects (reverse, chorus, phaser, delay, reverb)
Master compressor (can be driven by 4/4 kick via sidechain)
Monophonic and polyphonic 5-mode filter (lp, bp, hp, br, comp) with independent gate selection
Pattern change via MIDI note
MIDI input for sequencing chords in realtime
Easy chord creation via chordmaker, chord-recording and manual chord drawing
Split preset system can combine sound-, sequence- and chord-presets
Kick here to get this awesome DEAL
Subscribe to our mailing list to receive the latest news and exclusive downloads. Email