12. August 2021 | Hardware | Noizefield
Knobula released Poly Cinematic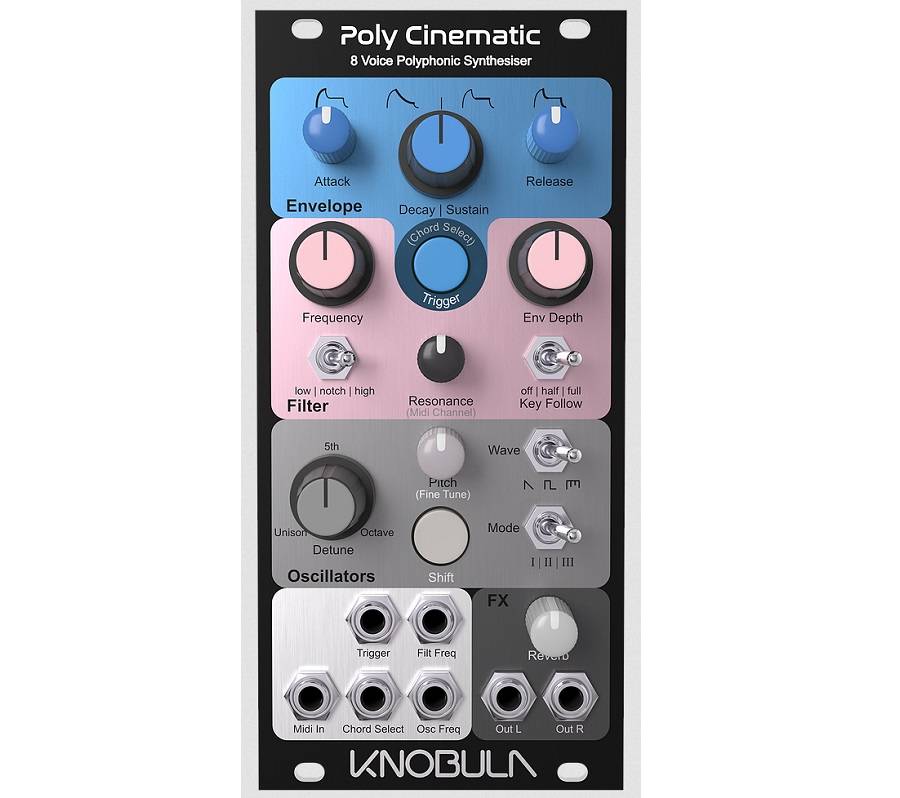 Knobula released Poly Cinematic, an voice polysynth module for eurorack designed to produce rich luscious pads and rhythmic power chords using just a few simple controls.
Introducing Poly Cinematic. The powerful compact synthesiser that brings big synth polyphony to Eurorack. It's simple to use with a dedicated knob or switch for each parameter, giving you immediate access to all the controls that really matter in the world of polyphonic pads and stabs. No presets, no menus, just a good honest tactile experience that puts pure sound synthesis at your fingertips.
Poly Cinematic can be played via midi as well monophonically over CV/Gate. As a monophonic module it can play one of 8 chord stacks, selectable using CV control, so it is as much a 56 oscillator mono synth as it is a luscious poly synth.
Main features:
7 oscillator supersaw per voice
3 oscillator syncable wave shaped square/pulse
3 oscillator detuned tonewheel organ
8 chord memory controlled by cv/gate
Detune control with unison/5th/sub octave sweet spots
3 filter types: lowpass, notch and highpass
Built in high quality 24bit 96khz reverb
Price
£ 320.00
More info here: Knobula | Poly Cinematic
Subscribe to our mailing list to receive the latest news and exclusive downloads. Email